Wrestler Name:
"The Real Deal Sex Appeal" Stan Styles
Alignment:
Heel
Height/weight:
6'1" 230 pounds
Age:
25
Gender:
Male
Gimmick:
Narcissistic Bodybuilder
Entrance:
"We are the Champions" by Queen begins playing in the arena as Stan Styles jumps out from the backstage holding a shake weight. Stan puts the weight between his legs and shakes it, emulating a certain thing males do. Mark Shurman follows him out from that back and poses as Stan laughs. The two walk to the ring before sliding in and posing for the crowd, showing off the fruits of their bodybuilding.
Short Bio:
Simply put, Stan is the man. With a bodybuilder's muscles, Stan knows he is appealing and knows that he's got what it takes to win here in Ring of Fire. Never short on confidence, Stan is prepared to do what he does best – win. But he doesn't only want to win inside the ring, Stan also plans on winning outside of the ring.
The Real Deal Sex Appeal is here and he certainly isn't queer. Stan Styles makes hot girls wet and fat girls sweat. He's here to be the king both in and out of the ring, and he's going to do whatever he's got to do in order to beat you.
Finisher(s):
Facial Reconstruction – Stan grabs XXXXX's head and lines his/her jaw up with his shoulder before jumping into the air and landing on the mat, smashing XXXXX's jaw into his shoulder.
Signature(s):
Running palm strike
Wrestler Pic: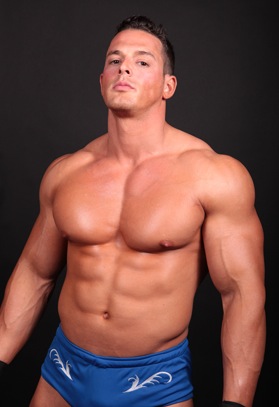 Stats:
Brawl: 100
Speed: 60
Tech: 40