Wrestler Name:
"Prince" Joseph Pendelton
Alignment:
Heel
Height/weight:
7'0" 291 pounds
Age:
21
Gender:
Male
Gimmick:
Wrestling Royalty
Entrance:
The lights in the arena dim to a quiet hum as "Spiral" by Pendulum begins to play in the arena and smoke begins to fill the entrance way. After a few moments, Joseph Pendelton steps through the smoke wearing an elaborate royal purple cloak and a smug smile on his face. Turning once to allow the audience to look at him in all his glory, Joseph slowly makes his way to the ring. Joseph walks up the steel steps before walking to the middle of the apron and posing for the crowd. Joseph unhooks his cloak while stepping into the ring before walking over to the corner and setting his cloak on the turnbuckle post.
Short Bio:
The self-proclaimed "Prince of Wrestling", Joseph Pendelton, is the son of the famous William Pendelton. Joseph, who inherited many of his father's traits, believes that his father should be known as the King of Wrestling for his numerous accomplishments. While idolizing his father, Joseph isn't slow to also think of himself as being great, too. Joseph Pendelton genuinely believes the Pendelton family to be wrestling royalty and thinks that his family should be treated with respect and reverence.
Joseph Pendelton was trained by his father and has already had numerous matches, which have really only led to him having even more of an ego.
Finisher(s):
Crowning Moment – Joseph lifts XXXXX into the air with a fisherman's suplex before dropping them onto the mat while swinging into a small package.
Royal Decree – Joseph Pendelton pulls XXXXX onto his back for a Gory Special. Joseph works him/her over with the submission hold for a few seconds before flipping XXXXX over his head and slamming XXXXX face-first to the mat while falling to a sitting position.
Royal Mutilation – Joseph Pendelton tucks XXXXX's under his arm and locks XXXXX into a double underhook before lifting him/her into the air. (Sometimes results in a butterfly suplex from this position if the opponent doesn't tap out)
Royal Phoenix – Joseph runs to the turnbuckle and leaps onto it before corkscrewing back and flipping onto XXXXX. (Phoenix Splash if you couldn't tell by the name)
Signature(s):
Sleeper Hold, Sidewalk slam
Wrestler Pic: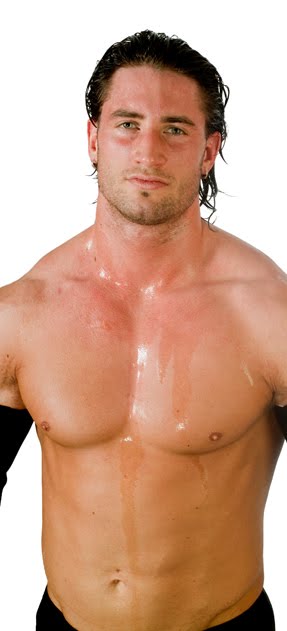 Stats:
Brawl: 100
Speed: 40
Tech: 60